Based upon many years of teaching study skills and hundreds of lecture slides and handouts I have pooled together a series of resources to support general and generic skills that relate to media and communications studies. I have published an open access text book, and a series of videos that as well as introducing the mechanics of writing and presentations, also shows how students can work on and engage with the critical and contemplative elements of their degrees whilst retaining motivation and refining timekeeping skills.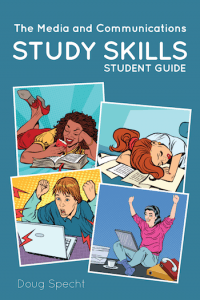 The Book
All the tips, ideas and advice given to, and requested by, MA students in Media and Communications, are brought together in an easy-to-use accessible guide to help students study most effectively.
Of course the nuts and bolts of reading, writing, listening, seminars and the dreaded dissertation and essays are covered too. In addition advice on referencing, citation and academic style is offered for those with concerns over English grammar and expression.
Aimed primarily at postgraduate students, there is significant crossover with undergraduate work, so this book will also prove of use to upper level undergraduate readers whether using English as a first or second language.
---
Videos
The complement the book, and of particular use during remote working, I have developed a series of short (generally 5minute long) videos that introduce the key concepts from the book. These videos are free to use and can be embedded within other websites of LMS platforms such as Blackboard or Moodle.
General Study Skills

Managing your time at university


Getting the most from online learning

---
Understanding questions and thesis statements

Writing thesis statements

---
Reading lists and critical reading

Six steps to better reading


Summarising and paraphrasing
---
Seminar and lecture skills

Getting the most from groupwork
---
Giving presentations

Preparing slides for presentations

---
Writing an assignment

The shape of essays (Six ideas)

---
Key tips to improve your writing

Writing a good essay opener


Summarising and paraphrasing